Wednesday saw a mix of clouds and sun as a weak weather system passed to our north. Skies were mainly clear during the morning and early afternoon hours, but a weather system passing to our north brought considerable cloudiness to our area late in the afternoon into the evening hours. Some light precipitation fell in a few areas of the northern mountains, Northern High Sierra, and north coastal areas, elsewhere was dry.
The Wednesday afternoon high temperature at this location reached 55º, and the morning low was 36º. The average high temperature for this time of the year is 52º, and average low is 32º. Winds were quite light, with a peak gust of only 1 mph.
Today should see clear skies this morning into much of the afternoon, before an approaching Pacific frontal system begins to spill a few high clouds over the high pressure ridge currently over us. Increasing clouds during the late afternoon into evening hours should bring about mostly cloudy skies for tonight. There is a 0% chance of precipitation though tonight. Winds should be out of the northeast this morning at 1-3 mph, turning more southerly up to 2 mph this afternoon as the air flow turns more onshore. The high temperature this afternoon is predicted at 56º, and the low tonight near 44º. Today should be the last full day without a chance of precipitation for about the next 5-6 days.
Friday should see mostly cloudy skies and a chance of rain throughout most of the day and night. There's a 0% chance of measurable precipitation at day-change, increasing to a 5% chance by about sunrise and continuing into late morning. By late morning the odds of rain increase to a 40% chance, and an 80% chance by about late afternoon into late Friday night as the brunt of the system reaches our area. This rain event doesn't appear to be very wet, and less than a half inch of rain is expected in Magalia on Friday. The afternoon high is predicted at 52º, and the low near 45º. Snow levels are predicted at about 5000' to 5500'. Southerly winds should pickup ahead of Friday's frontal system. Winds may reach as high as 8-14 mph Friday morning, and increase to as high as 15 mph during the afternoon hours. Winds should gradually taper off by about sunset into the night.
Saturday may see a bit of a decrease in precipitation coverage and intensity, but residual moisture and a weak upper level trough passing just to our north may keep a 20% to 30% chance of rain in our forecast. Only about a tenth of an inch of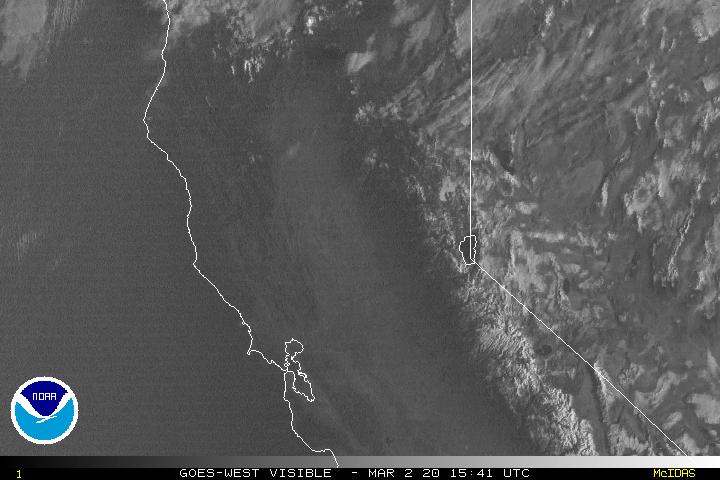 rain is currently predicted for Magalia. The high temperature is predicted at about 52º, and a low of 46º. Southerly winds are expected at 6-8 mph.
Sunday may see the next wetter weather system begin to affect our area. Forecast models are beginning to trend towards pushing the majority of the moisture into Central California which would affect the amount of rainfall we receive here in our area. Precipitation odds start out at a 20% chance, and gradually increase to an 80% chance by late afternoon into early Monday morning. This system is predicted to drop about 1.5" of rain in Magalia as it lingers into Monday. Snow levels are predicted at 5500' to 6500'. Odds of precipitation drop to 20% by late afternoon into late Tuesday afternoon.
High pressure is currently forecast to build into the region by about the middle of next week, allowing for a drying out period. There's only a 5% chance of rain on Wednesday, with a high temperature of 56º. Forecast models diverge by the middle of next week, so the forecast is not very confident at this time. Have a good Thursday. Bob